Charles Clement Huber and Elizabeth Irene Pickens
Charles Clement Huber, son of Clement Huber and Mary Ann Snyder, was born on 26 February 1864 in Parma, Monroe, New York. He had an older brother, Frank, born abt. 1856 in Monroe County, NY who died when Charles was a baby, (18 December 1864); two older sisters, Julia E. born 31 August 1858 in Monroe County also and died 26 Jun. 1949 in Parma, Monroe County, NY, and Jessie A., born in January of 1861 in Monroe County, NY and died in 1937. She was buried in Greece, Monroe, NY. A younger brother, George W., was born in 1865 or 1866 in Parma, Monroe County, NY and died 16 July 1959. He was buried in the Parma Corners Cemetery. A younger sister, Cora M., was born in 1871 or 1872 in Monroe County, NY and died in her early teen years on 16 April 1884. She is also buried in the Parma Corners Cemetery. Charles grew up in Parma, but moved to Rochester in 1885, where he lived for the next 53 years of his life.
As a young man before getting married, he spent all one winter working in the Michigan woods cutting down trees. However, his main occupation was a mason, as was his father. He could do both construction and fancy masonry and did whichever one was needed to earn a living at any particular time. Part of the time he was a stone mason for Frederick's Construction in Rochester. He also did artistic masonry on the Palace Theater, the Eastman Theater, and the Eastman House all in Rochester. One winter though, he spent most of his time in Niagara Falls doing fancy masonry on several churches there. During the depth of the Depression in the 1930s, he was able to earn $40 per day, which was a good wage at that time. Both his son, Lloyd and his grandson Gordon (son of Ivan) asked him to teach them the artistic masonry trade, but he refused, saying they should work with their heads rather than their hands.
Elizabeth Irene Pickens may have born 1 December 1864 or 1865 in Parma, Monroe County, NY or in New York City. She was the daughter of Samuel I. Pickens (born about 1820 in Ireland) and Margaret Duggan (born about 1822, also in Ireland).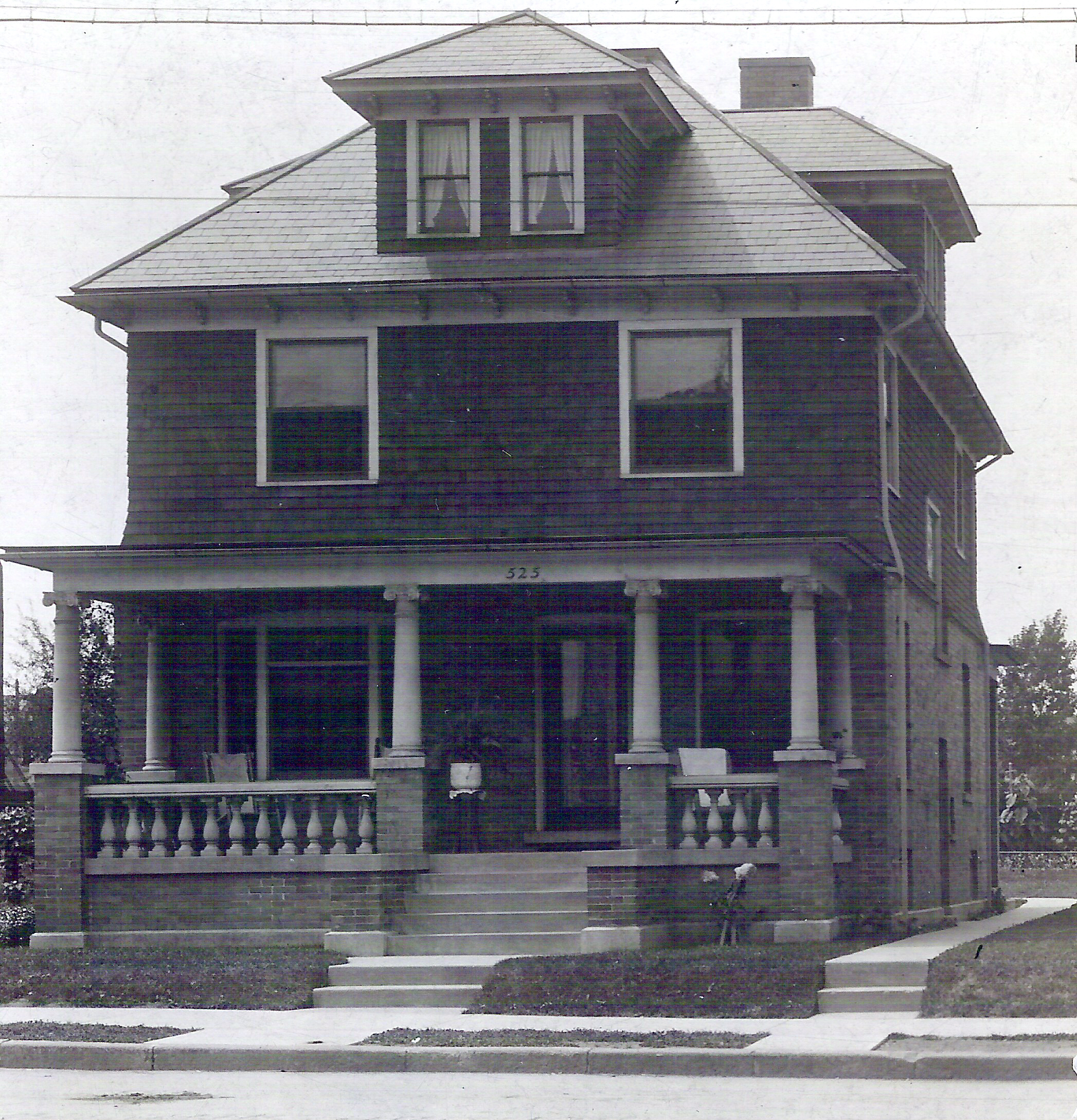 Charles married his sweetheart, Elizabeth Irene Pickens, on 27 January 1886 in Rochester, Monroe, New York. They set up housekeeping at 525 Dewey Avenue in the city where they had their two sons. Ivan Charles was their firstborn on 15 November 1886 and 17 years later on 20 February 1903 their second son, Lloyd R., was brought into the world.
One time her grandsons Gordy and his brothers Elmer & Ray bicycled from their home in Churchville to their Uncle John Pickens' on Trimmer Road just south of the Ridge Road, near Adams Basin. Elizabeth happened to come out and visit her brother (John). She was very upset that they were there without a parental figure and hollered at them big time. Gordy remembers how mad at them she was. She never drove, so a friend must have brought her out. Family members remember that she "ruled the roost."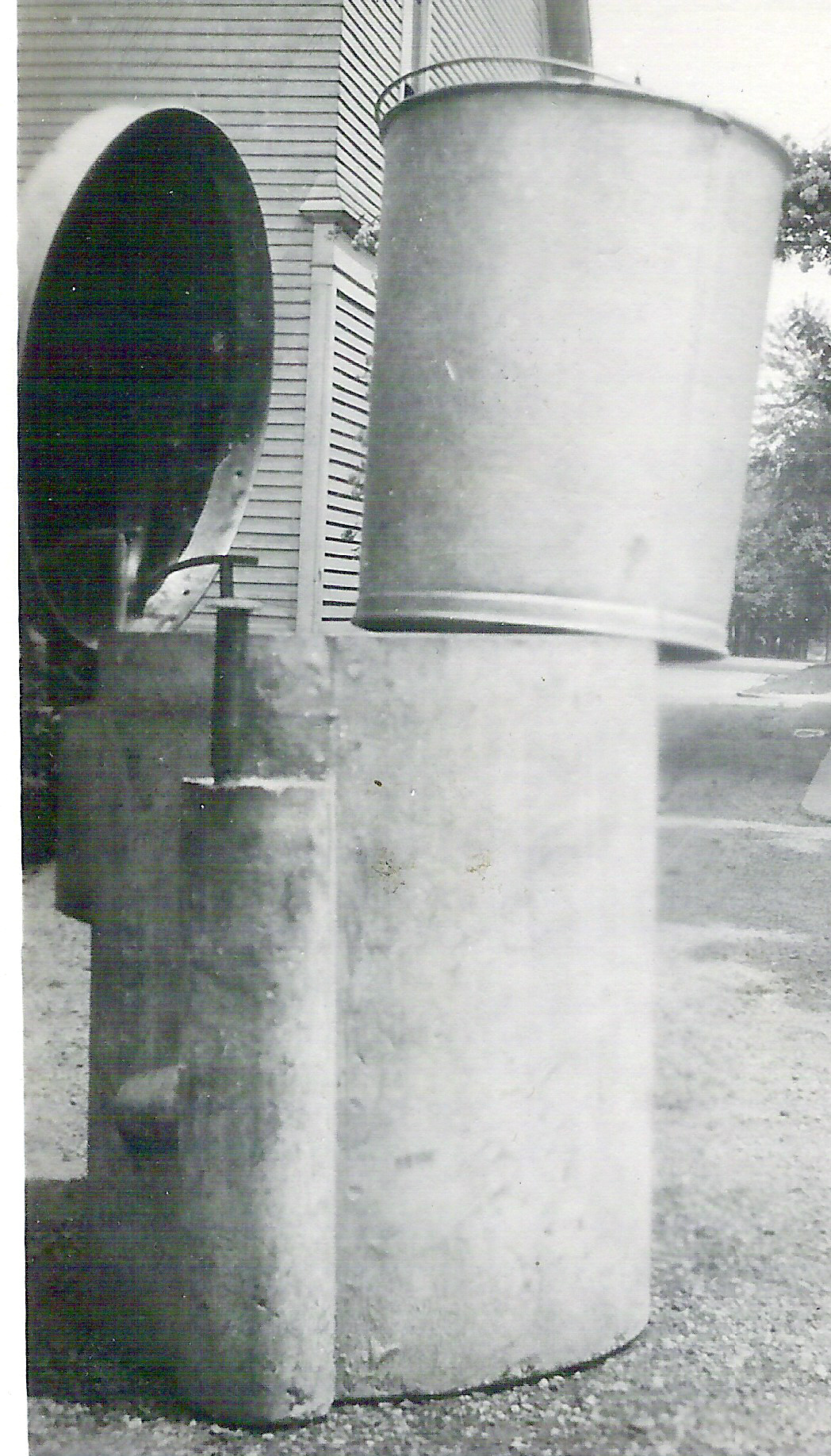 One of Charles' hobbies was inventing things. However, most items were ahead of their time, so he didn't make much money on them. Rather he spent money for materials, patents, etc. which depleted their extra money and frustrated his wife. Among his inventions were round cement trash can holders. These heavy containers prevented the wind from blowing them around, but were too heavy to be practical. Sealed beam headlights were much more practical, but were too far ahead of their time and he was not able to sell them. People laughed at the idea and his patents expired before the automobile industry started to use them. Now, that is all one finds on all cars made. He had cases of them made and they were later stored in one of the barns on Gillette Road in West Barre where he lived out his life along with many of the cement junk barrels. One successful invention of his was a waste basket with a foot pedal to open the lid. They sold very well and are still used today in homes, schools and hospitals. He had hoped to make a perpetual motion machine, but along with many others, never did accomplish that feat.
The last time Elizabeth went to the bathroom, "something broke" which caused her death. (Stroke from straining? Internal bleeding? Ruptured intestine?) She died 15 July of 1931. Charles had a special brass or copper vault made for her. At that time, caskets were generally buried directly in the ground without a vault, so this was a very special thing he did for her. He had decorative work put on the cover. She was buried in the Parma Corners Cemetery where he stayed till every shovel full of dirt was placed on her grave.
After Elizabeth's death, Charles traded two houses which he had owned in Rochester for two adjacent 100 acre farms near West Barre on the Gillette Road. He never did learn how to drive a car, but did buy a new Farmall tractor when he moved out to his farm in 1938. He also had a team of horses named Dick and Joe which he used for much of the farm work. Since he knew nothing about farming, people were surprised that he never asked for any opinions on the land. They learned about his venture when it was all completed. In 1942, his son, Lloyd and family moved out to the farm where they lived until 1975. After a few years because the deed on the west farm was not clear, they let that farm go. They raised cabbage, beans, grains, peas, and tomatoes for several years. Eventually they remodeled a barn, making it suitable for dairy cows. Charles once again used his masonry skills to do all the cement work.
About 1946, there was a particularly difficult winter with enough snow to keep them home bound for six weeks. Charles and Lloyd walked through the snow more than once to the store in West Barre, a trip of about 2 miles, dragging a small sled with them for a place to put their food to take back home. Betty begged to ride on the sled to go with them but they needed it to bring back the food. West Barre was at the end of State Route 279 and the snow plows did plow the road that connected it to Barre Center. The snow plows were old and kept breaking down and the Town Board turned down the request the previous year for a new truck. At that time, their road was dirt (gravel), not having yet been paved, and was among the later ones to be plowed.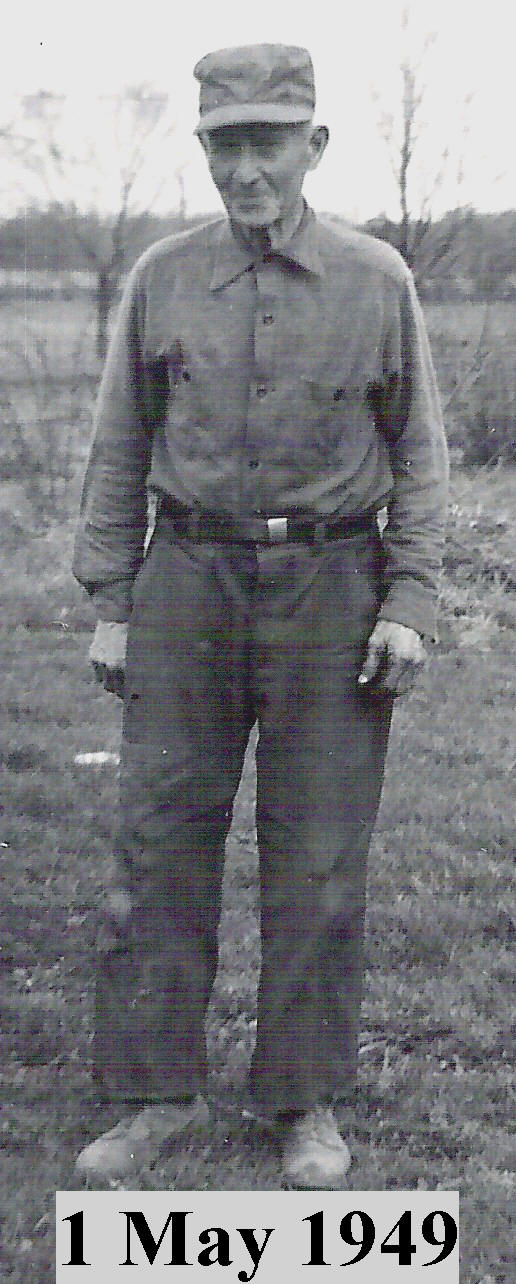 Although Charles spent much time working on the farm, he also spent time with his granddaughter, Betty. Among his treasures was a key to Niagara Falls, given him many years previously. He imparted that to her. He shared stories of his family and their life. One of the most interesting facts to her was something he really did not have control of, being born during the Civil War. This fact made that time period very real to her.
Charles became ill with stomach cancer in the summer of 1950 and had an operation to remove all they could. This was done in St. Jerome's Hospital in Batavia. However, it was not a totally successful operation as the cancer returned and took his life on 24 January 1951, just a little over a month before his 87th birthday. His daughter-in-law, Clara, took care of him at home from the time he got sick the second time until his death. He spent much of that time in his bedroom on the second floor of the home, so she was busy going up and down stairs. In that time period, many funerals were held in private homes rather than funeral homes, which were quite new then. His was no different, with his casket set up in the east end of the living room for those who wished to stop by and pay their respects. The local Methodist minister was in charge of the service, also held in the living room. He also was buried in the Parma Corners Cemetery next to his wife. His son, Lloyd, repeated what Charles had done almost 20 years before. Even though it was a cold January day, he insisted that his dad be buried and not kept in the vault until spring. Then he remained on the premises until every shovel of dirt was placed on his dad's grave.
Charles Clement Huber lived a long life and left a fine legacy of two sons, five grandchildren, and five great grandchildren at the time of his death.



COPYRIGHT © 2005 Bob & Betty Hales